Pediatric GI Nursing Assessment-Based Certificate Program
COMING SOON!
Improve patient care and strengthen your commitment to clinical excellence with an all-new CE program from the Association of Pediatric Gastroenterology and Nutrition Nurses (APGNN) 
Completion of the program will award the participant a "Certificate in Pediatric Gastroenterology, Hepatology, and Nutrition Nursing"
Available as an education bundle or a-la-carte learning modules, the evidence-based program is customizable to fit the educational goals of pediatric nurses, nurse practitioners, physician assistants, psychologist, dietitians, and other healthcare professionals
Thirteen topics will be covered, offered as individual modules with CE credit. This flexible, self-paced program allows the participant to pick and choose which modules to complete. Participants who complete and pass all 13 modules will receive the Certificate in Pediatric Gastroenterology, Hepatology, and Nutrition Nursing. Certificate is valid for five years to ensure content is updated per medical guidelines.
Pediatric Learning Modules Available:
- Abdominal Pain                                                                                                      - Gastroesophageal Reflux          
- Allergic Conditions of the GI Tract                                                                       - Inflammatory Bowel Disease
- Celiac Disease                                                                                                          - Introduction to Liver Disease
- Constipation                                                                                                             - Malnutrition
- Diarrhea                                                                                                                    - Obesity & Non-Alcoholic Fatty Liver Disease (NAFLD) 
- Disorders of Gut-Brain Interaction (Functional GI Disorders)                          - Vomiting
- Enteral Tubes 
This program is a joint providership between APGNN and the Society of Pediatric Nurses (SPN).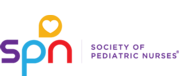 Financial support provided by Nutricia,  Nestle Nutrition Institute, and Abbott.



Check back soon for details on how to register for this first-in-the-nation program