Annual Meeting Overview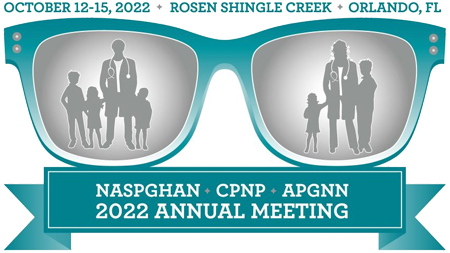 Each year, APGNN hosts an annual meeting in conjunction with NASPGHAN. Our annual meeting offers evidence-based updates in the field of Pediatric GI, geared towards nurses, advanced practice providers, and allied health professionals. APGNN offers a diverse program covering a variety of "hot topics" as well as foundational education. Continuing Education and Pharmacology hours are awarded. The annual meeting is a wonderful opportunity to network and stay up to date on the latest clinical practices!
SAVE THE DATE!
Join us on October 13-16, 2022 in Orlando, Florida
We look forward to seeing you for this celebratory year – 30th Annual Meeting for APGNN and 50th Anniversary for NASPGHAN!
The APGNN Annual Meeting is Friday, October 14, 2022 beginning at 7:30am and ending with the APGNN Social in the evening to celebrate our 30th Meeting. Saturday October 15, 2022 is APGNN sessions in the morning and NASPGHAN concurrent sessions in the afternoon. Complete agenda coming soon!
Future Meetings
2023
October 5-7, 2023
San Diego, CA
2024
November 7-9, 2024
Hollywood, FL
2025
November 6-8, 2025
Chicago, IL
2026
October 22-24, 2026
San Diego, CA 
Past Meetings
Recorded sessions are available until 12/12/2022!
Registration is open until 12/2/2022
You will be emailed a link from Pathable, within 24 hours of registering , to access the recordings.