APGNN Annual Meeting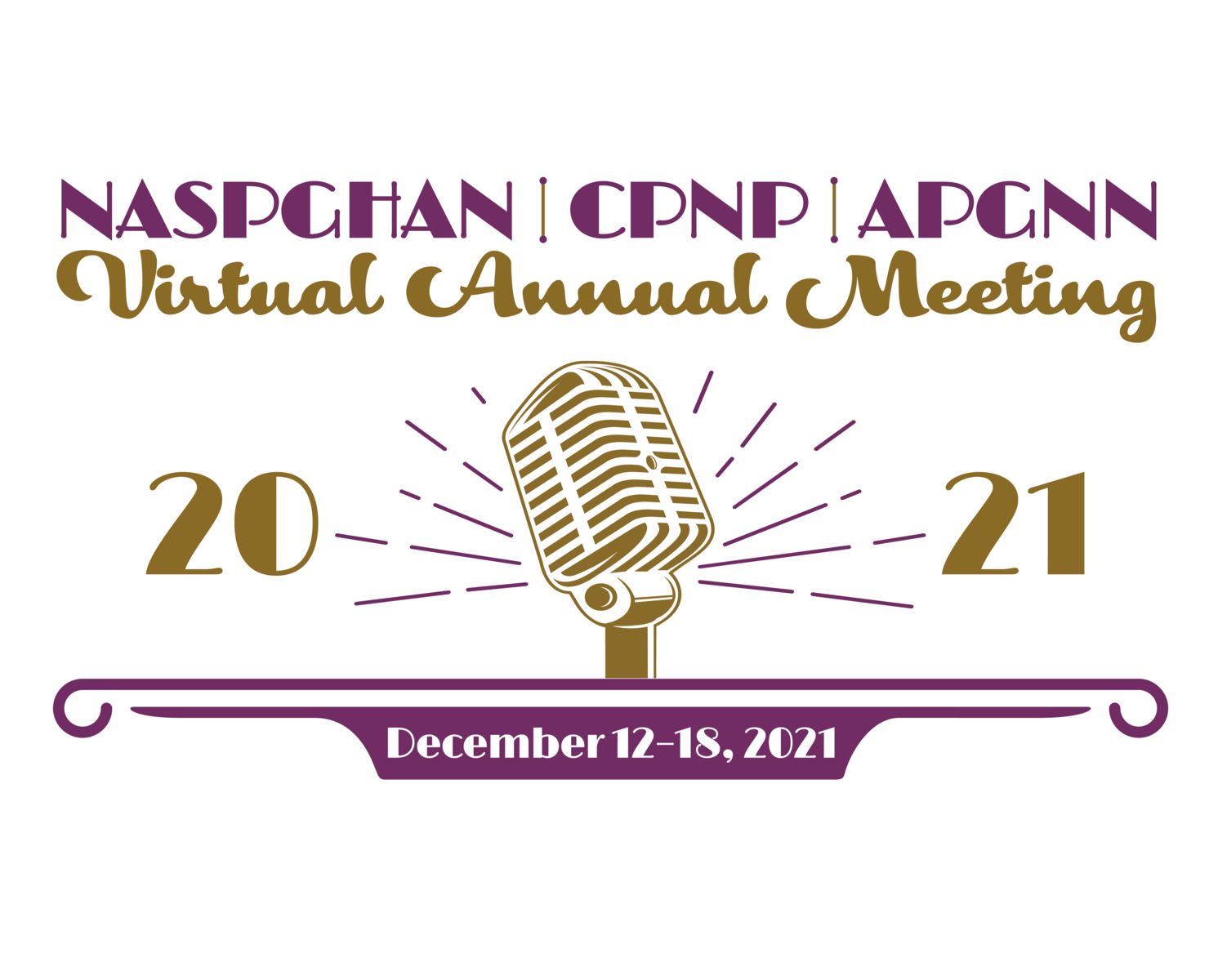 Due to COVID-19, the APGNN Annual Meeting has been moved to a virtual format over the week of December 12-18, 2021.
All registrations for in-person or on-demand completed before September 22, 2021 will be transferred automatically to this virtual event. If you would like to attend the meeting and have not yet registered, please register here. Content will be recorded and available for 1 year after the conference.
                                                                 APGNN Program
                                    Monday, December 13 – Friday, December 17, 2021

Monday December 13, 2021 
12:00-1:30pm ET: Session I - Keynote Speaker/Enteral Tubes
12:00-12:30pm: Keynote: "Trauma, Stress & Resilience: Keeping Calm during Covid" – Robin Shannon, CPNP
Learning Objectives
      1. Describe the biopsychosocial effects of the Covid-19 pandemic
      2. Discuss trauma and stress and the effects on the body
      3. Identify relaxation techniques for patient care & self-compassion
12:30-1:00pm: "Update on The NOVEL Project" – Rose Pauley, APRN
Learning Objectives
1.    To describe the mission of the NOVEL project
2.    Describe the current state of tube placement verification in hospital settings and differences from initial study
3.    Explore ways to help disseminate new information and assist with de-implementation of outdated practices
4.    Explore future directions and actions for health care providers
1:00-1:30pm: "Enteral Tubes 101" – Macy Carobene, MS, RN, CPNP-BC
Learning Objectives
1.    Review types of enteral tubes available for pediatric patients 
2.    Discuss management of enteral tubes
3.    Identify troubleshooting techniques for problem tubes    
1:30pm ET: Poster session 1
3:00-4:30pm ET:   Session II - Inflammatory Bowel Disease
3:00-3:30pm: "The State of Inflammatory Bowel Disease" - Jonathan Moses, MD
Learning Objectives
1.    Review the latest treatments in IBD
2.    Review Model Care Guidelines for standardizations of care
3.    Discuss the interdisciplinary team approach to care of the IBD patient
3:30-4:00pm: "Use of Biosimilars in Pediatric IBD: What You Need to Know?"- Ross Maltz, MD
Learning objectives
1. What are biosimilar agents
2. Explore the place of biosimilar agents in Pediatric IBD
3. Review data on switching to a biosimilar agent
4:00-4:30pm: "School Reintegration in Pediatric IBD: Steps for Success and Accommodations"– Michelle Maddux, PhD
Learning Objectives
1.    To identify school-related challenges experienced by youth with IBD, using patient and caregiver feedback
2.    To summarize key steps in successful school reintegration using evidence-based strategies
3.    To provide practical school-based recommendations for clinicians working with youth with IBD

Tuesday December 14, 2021
12:00-1:30pm ET:  Session III – Aerodigestive & Feeding 
12:00-12:30pm: "Trans-nasal Endoscopy" – Ramy Sabe, MD
Learning Objectives
1.    Describe the procedure of trans-nasal endoscopy 
2.    Review diagnostic benefits of trans-nasal endoscopy for different populations 
12:30-1:00pm: "Updates in Thickening: The IDDSI Framework" – Kara Larson, MS, CCC-SLP  
Learning Objectives
1.    Review the rationale for thickening in patients with aerodigestive disorders
2.    Discuss the new guidelines for thickening per the International Dysphagia Diet Standardization Initiative (IDDSI)
3.    Learn how to implement the IDDSI testing method in clinical practice 
1:00-1:30pm: "Blenderized Enteral Feeds: Safety & Outcomes" – Mimi Girten, RD, LDN, FAND 
Learning Objectives
1.    Provide overview of blenderized feeding principles 
2.    Review safety and outcomes of using blenderized enteral feeding in pediatric patients  
1:30-3:00pm ET: Live Exhibits
3:00-5:00pm ET:  Session IV – Hepatology  
3:00-3:30pm: "Hepatitis Overview" – Rima Fawaz, MD
Learning Objectives
1.    Discuss differences between Hepatitis A, B, and C
2.    Review work up necessary to diagnose 
3.    Review treatments available for Hepatitis
3:30-4:00pm: "Inherited Liver Disease" – Norberto Rodriguez-Baez, MD
Learning Objectives
1.    Review basics of inherited liver disease 
2.    Discuss diagnostic work up
3.    Discuss treatments available
4:00- 4:30pm: "Diagnosis and Treatment of NAFLD" – Debra Browne, MSN, RNP, CPNP
Learning Objectives
1.    Review pathophysiology of NAFLD
2.    Discuss criteria for NAFLD and diagnostic testing 
3.    Provide treatment overview of NAFLD 
4.    Present barriers to treatment plans
4:30-5:00pm: "Nutritional Treatment for NAFLD" – Paula Mrowczynski-Hernandez, MEd, RD, CSSD
Learning Objectives
1.    Impact of nutrition on NAFLD treatment
2.    Key nutritional interventions for pediatric patients with NAFLD 
3.    Appropriate methods of communicating healthy with children and adolescents

Wednesday December 15, 2021
1:30pm ET: Poster Session 2
3:00-4:30pmET:  Session V - Motility
3:00-3:45pm: "Approach to the Pediatric Patient with Chronic Nausea" – Katja Kovacic, MD
Learning Objectives
1.    Identify causes for nausea in the pediatric patient 
2.    Review ROME IV criteria used to diagnose functional nausea
3.    Discuss pharmacologic and nonpharmacologic treatments for functional nausea 
3:45-4:30pm: "Treatment Options for Intractable Constipation" – Kim Osborne, DNP, RN, CPNP-PC
Learning Objectives
1.    Educate on use of antegrade continence enemas (ACE) and rectal enemas in the treatment of constipation
2.    Discuss use of biofeedback for treatment of constipation 
Thursday December 16, 2021
12:00-1:30pm ET NASPGHAN Concurrent Sessions
POTSpourri in neurogastroenterology
Moderators: Eric Chiou, MD, Baylor College of Medicine and Gisela G. Chelimsky, MD, Medical College of Wisconsin
12:00pm "My baby won't eat: Approach to the poor feeding infant"- Rachel Rosen, MD, Boston Children's Hospital    
Learning objectives:
1.    To understand the differential diagnosis of the poor feeder
2.    To understand the role of pharmacologic and nonpharmacologic therapies for poor feeding
3.    To discuss alternative feeding methods beyond the bottle
12:25pm "Approach to GI symptoms in orthostatic intolerance"- Anil Darbari, MD, MBA, Children's National Medical Center    
Learning objectives:
1.    To understand underlying pathophysiology behind GI symptoms in children and adolescents with orthostatic intolerance
2.    To learn about the utility of diagnostic studies for GI symptoms
3.    To learn how to discuss the diagnostic approach with families
4.    To understand management strategies for GI Symptoms in Orthostatic Intolerance
1:02pm "Nutrition considerations for the functional GI patient"- Kirsten Jones, RD, CSP, LD, Nationwide Children's Hospital    
Learning objectives:
1.    Discuss the importance of ensuring well-balanced nutrition in functional GI patients
2.    Review appropriate diet options for functional GI patients
1:30-3:00pm ET Live Exhibits
3:00-4:30pm ET NASPGHAN Concurrent Sessions
THE IN's and OUT's: Approaches and treatment options in neurogastroenterology
Moderators: Neha R. Santucci, MD, Cincinnati Children's Hospital and Carlo Di Lorenzo, MD, Nationwide Children's Hospital
3:00pm "The neurogastroenterologist's approach to nausea and bloating"- Jose Garza, MD, GI Care for Kids
Learning objectives:
1.    Understand the pathophysiology of nausea and bloating
2.    Summarize initial evaluation of nausea and bloating
3.    Describe therapeutic interventions for nausea and vomiting
3:37pm "Pharmacological approach to constipation and IBS-C"- Lusine Ambartsumyan, MD, Seattle Children's
Learning objectives:
1.    Recognize the therapeutic limitations and challenges in pediatric Constipation and IBS-C
2.    Illustrate the current pharmacological treatment options in children with Constipation and IBS-C
3.    Discuss innovative and promising therapeutic options on the horizon for the treatment of pediatric Constipation and IBS-C

Friday December 17, 2021
12:00-1:30pmET NASGPAHN Concurrent Sessions
Practical approaches in the management of our IBD patients
Moderators: Ashish Patel, MD, Phoenix Children's Hospital and Cary Sauer, MD, Emory University / Children's Healthcare of Atlanta
3:45pm "Mental health screening in IBD: The what, the how, and the why"- Michele Maddux, PhD, Children's Mercy Hospital
Learning objectives:
1.    To highlight targets of mental health screening most relevant to pediatric IBD
2.    To describe implementation of mental health screening during in-person visits and telemedicine, using specific examples from multidisciplinary care models
3.    To review key barriers to mental health screening and sustainable ways to incorporate screening into clinical workflow
4.    To highlight impact of COVID on mental health among youth, using medical and mental health claims data
4:10pm "Taking our best shot at immunizing IBD patients"- Ying Lu, MD, Cohen Children's Medical Center
Learning objectives:
1.    To understand the barriers to vaccinating patients in the office
2.    To learn strategies to increase vaccination rates
3.    To review the efficacy and safety of vaccines in IBD patients
4:47pm "The hope of smooth transition"- Tolulope Falaiye, MD, Children's Hospital Colorado
Learning objectives:
1.    Be able to define transition versus transfer of care
2.    Identify methods that will work for your practice flow
3.    Design and/or apply a system of transition of care
1:30 PM Poster Session 3
3:00-4:30pm ET:  Session VI – Management of the Special Needs Child  
3:00-3:30pm: "Constipation Management in the Patient with Special Needs" – Kent Williams, MD
Learning Objectives
1.    Approach to management of constipation in the child with autism
2.    How to identify pharmacologic treatment options
3.    Review surgical treatment options 
3:30-4:00pm: "Feeding Evaluation in the Patient with Special Needs" – Ajay Kaul, MD
Learning Objectives
1.    Review approach to feeding evaluation in patients with special needs 
2.    Discuss diagnostic testing used in pediatric feeding evaluations 
4:00-4:30pm: "Nutritional Management in the Patient with Special Needs" – Kristy King, RD
Learning Objectives
1.    Review difference in caloric and RDI requirements in special needs patients
2.    Discuss tools used to identify malnutrition
3.    Discuss appropriate means of nutrition supplementation